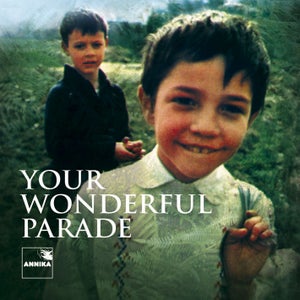 €

10.00 - On Sale
Get the compilation of 10 euros (instaid of 16 euros) for a few days
>>> Available only in this website <<<
2CD compilation. 40 unreleased and exclusive tracks.
Limited edition, numbered, only 1000. Gatefold picture sleeve with a 32 page booklet.
Released on 17 December 2010.
CD1
1. Hidrogenesse. Annika baroque (après Händel)
2. Parade. El desfile terminó (Para Annika)
3. Mirafiori. Las reglas del juego
4. Milkyway. Feelings (demo 1996)
5. Pipas. Hard Times (remix)
6. The Ballet. Kitty (demo, with Daniel Barrow)
7. Remington Super 60. Mister Nilsson
8. Soy un caballo. Les vacances
9. Klaus&Kinski. Lección de Biología
10. Serpentina. Nuevo encuentro
11. Laure Briard Chante La France. 180 Pages
12. Rous. Mi pequeño amor
13. Serpentina. Me gustas
14. The Aprons. Full Of Love
15. Milkyway. Silly Things (demo 1996)
16. Mirafiori. La casa del coleccionista
17. Pedro Páramo. I Am Not Missing You
18. Corazón. La fiebre de Carlos
19. The Otto Show. On Pigeonback
20. Milkyway. Annika Soft Club
CD2
1. Milkyway. Annika Sunshine Club
2. La casa azul. Niño zombi
3. Band a Part. Postales
4. Puntapié. Enamorado de mi TV
5. Austria. La fiesta
6. Superété. Martina feliz
7. Serpentina. Yo fui un poltergeist adolescente
8. Mirafiori. Somos buenos amigos
9. Corazón. Has perdido tu tren
10. anti. Lovers Rock (demo)
11. Violeta Gomez. Jóvenes gaviotas
12. Rous. Recordándote
13. Pipas. Somebody Else
14. Paul Bevoir. If I Could
15. Serpentina. Canción del eslabón perdido
16. Nando. Topatumba
17. Fine! The Big Issue (revisited)
18. Serpentina. Si ayer no hubiera cantado
19. Corazón. Te buscaré (live)
20. The Aprons. A Beautiful End
Your Wonderful Parade by AnnikaRecords
La prensa ha dicho:
"Your Wonderful Parade se nos antoja como el mejor recopilatorio que hemos podido escuchar en años, muchos años. Cualquier alabanza vertida aquí siempre será escasa para el buen gusto plasmado en estos dos Cd's (con presentación de altura, no olvidemos). Este último destello de genialidad de Annika merece una compra a la antigua usanza, a ciegas incluso. Pocas veces unos pocos euros habrán sido tan bien invertidos." Manolo Soleado. 360 grados de separación
"Un disco necesario para el degustador de indie español, no solamente porque contiene joyas que conviene atesorar, sino porque representa una pequeña historia (la del sello Annika) y resume caminos que, a estas alturas, aún siguen sin explorarse" César Prieto. Efeeme
"Cuarenta canciones que merecen y merecían mejor suerte de la que han tenido hasta ahora. Tan solo esperamos que este desfile, el de Annika, le sucedan muchos más para sus protagonistas". Esteve Farrés. Rockdelux
"El recopilatorio reúne con muy buen gusto una pequeña parcela del pop de la última década, para muchos la más lánguida, para otros la mejor con mayúsculas. Sebas. Jenesaispop.
"Si esto es una despedida, no lo querríamos, siento que es la mejor posible. Felicidades a Annika". Manolo Dominguez. La Nadadora.